Sonam Kapoor shaves her face with a Straight Razor. OMG ! why in the hell she do a thing like that. But anyway she did it. Hail sonam.
Whole India knows that shocking thing what Sonam Kapoor announced recently. She told that she's ready to shave her head and become bald for movie if she gets a chance.
But in 2014 Sonam Kapoor has gone to a wild photo shoot which involves shaving her entire face with a Straight Edge Razor
Sonam Kapoor Face Shave Pics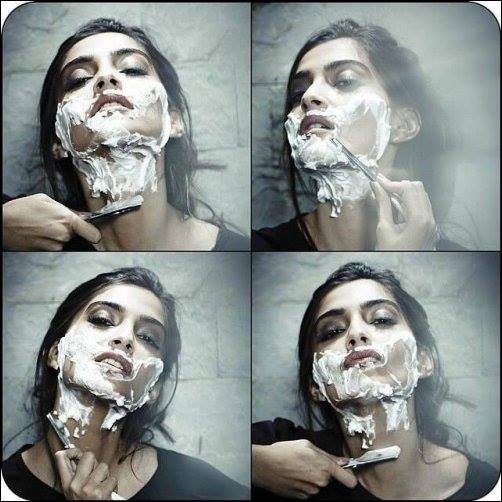 Source : Facebook
After this Bollywood actress Sonam Kapoor, who is know as the fashion diva, has become the butt of jokes on social networking sites like Facebook and Twitter
Her papa " Anil Kapoor " is famous for two things. They're are his Ghatiya Jokes and his Body Hair. People on social media trolled Sonam for Shaving her Face like " Baap pe Ghayi Hain ".
Sonam Kapoor always looks sexy and elegant with her hair groomed nicely, Main people follows her fashion
Sonam Kapoor did a Photo Shoot for Famous Fashion Photographer Rohan Shrestha, that photo shoot went crazy after fans watched her pics in the Photo Shoot
Which involves her Face Shaven by her using a Razor and the face was fully covered with shaving foam. Sonam Kapoor was one of the actress who represented India internationally in various Fashion Events.
No issues with her Stunning looks, she looks fab in any hairstyle…
Sonam Kapoor Face shave left some of the fans shocked and some of okay because they all do this for fashion only.. right? Hope you Guys likes her Face Shave
Don't forget to share this post on Social Media. Thank you.